State Seal of West Virginia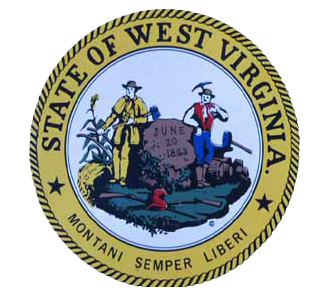 The Great Seal of West Virginia was adopted by the Legislature on September 26, 1863. The seal bears the legend, State of West Virginia, together with the motto, "Montani Semper Liberi" (Mountaineers Are Always Free) A farmer stands to the right and a miner to the left of a large rock bearing the date of admission to the Union, June 20, 1863. In front of the rock are two hunters' rifles with a Phrygian Cap, or "Cap of Liberty", resting at the cross of the rifles.
Joseph H. Diss Debar, of Doddridge County, designed the seal in 1863 at the request of the Legislature.
---

Old gold and blue were designated as the official state colors by Senate Concurrent Resolution 20 adopted by the Legislature on March 5, 1963.

---
June 20th - West Virginia Day

West Virginia Day became a legal state holiday by Chapter 59, Acts of the Legislature, Regular Session, 1927 (WVC þ2-2-1)