Member's Press Release
Release Date: 01/07/2014
Contact: Lynette Maselli - (304) 357-7809
---
Senator Yost , Senator Fitzsimmons Delegate Swartzmiller , Delegate Diserio , Delegate Jones
Legislators Obtain Small Cities Block Grant for Sewer Extension Project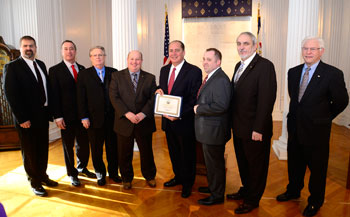 CHARLESTON, WV – West Virginia State Senators Rocky Fitzsimmons (D-Ohio) and Jack Yost (D-Brooke), along with Delegates Phil Diserio (D-Brooke), Randy Swartzmiller (D-Hancock) and Ronnie Jones (D-Hancock), received a Small Cities Block Grant on behalf of the Brooke County Commission Monday at a ceremony held in Charleston.
The $700,000 Small Cities Block Grant will be used by the Brooke County Public Service District for the Mahan/Eldersville/Bruin/Louise Sewer Extension Project – Phase 2. "This grant will help provide much needed sewer service to residents in the areas of Louise and Latimer Avenue, Bosley Run and Black Hollow," says Senator Fitzsimmons. "The full project is expected to alleviate concerns related to failing septic systems and grey water affecting nearby streams."
This extension is expected to benefit 89 households and the surrounding area.
"I am pleased we were able to secure this necessary grant," says Delegate Diserio. "Adequate sewer service is vital to the continued development of the area. I, along with my colleagues, will continue working to ensure that the infrastructure needs of Brooke County are met."
The total project cost is estimated at $2.2 million.