Member's Press Release
Release Date: 06/09/2016
Contact: Senator Chris Walters: (304) 357-7866, Delegate Andrew Byrd: (304) 340-3240
---
Senator Walters Andrew Byrd,Matthew Rohrbach,Ron Walters
Bipartisan Group of Legislators Return Special Session Pay to State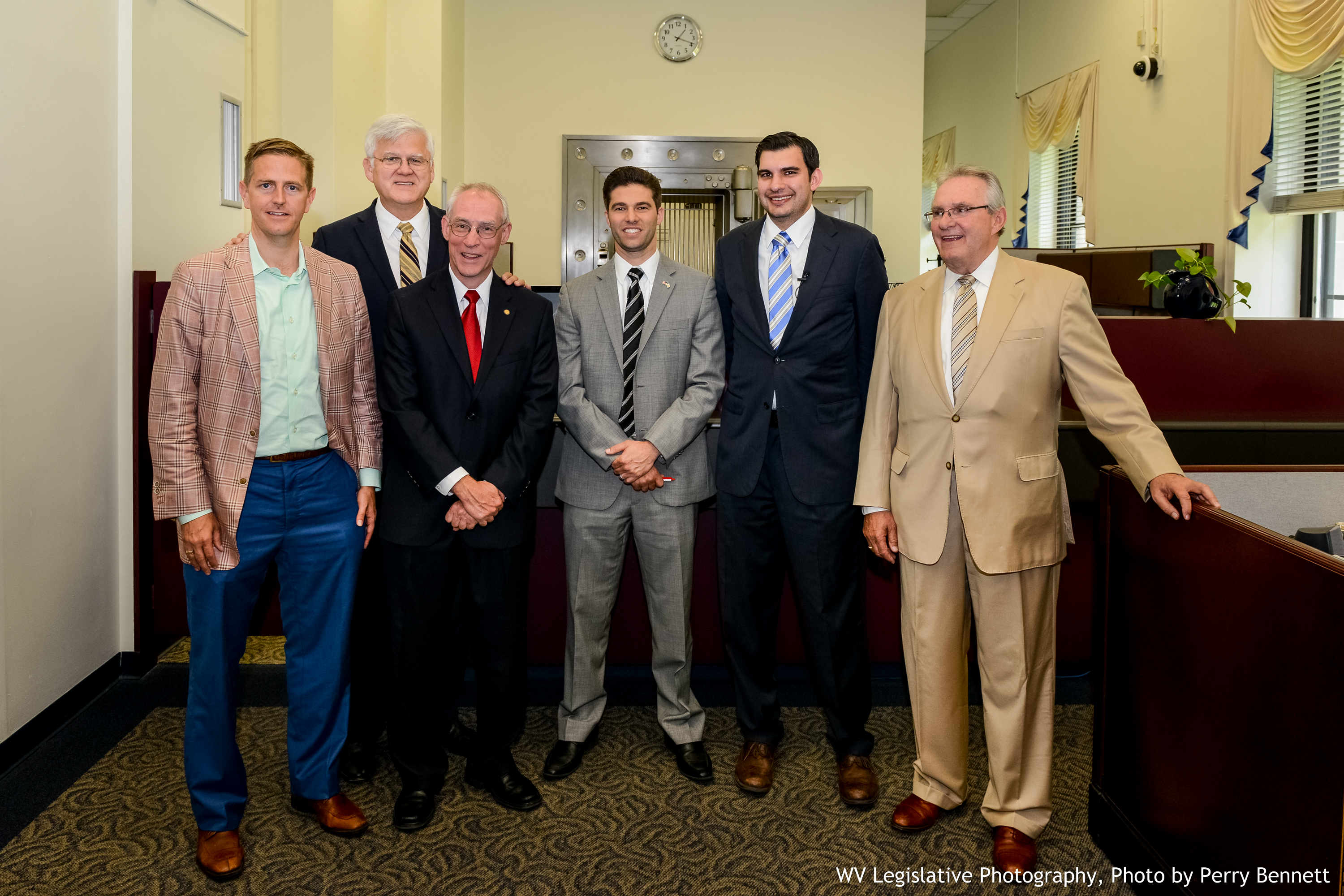 Charleston, WV - A bipartisan group of legislators joined together today to donate their special session salary back to the state. Senator Chris Walters (R-Putnam), Delegate Andrew Byrd (D-Kanawha), Delegate Doug Reynolds (D-Cabell), Delegate Matthew Rohrbach (R-Cabell) and Delegate Ron Walters (R-Kanawha) delivered checks to the Treasurer's Office this afternoon in a bipartisan fashion to highlight the need for cooperation as the Legislature continues work on the budget.
Because West Virginia law does not provide a way for lawmakers to forego a salary, several legislators pledged to donate their special session pay back to the state or to a charitable organization. Delegate Rohrbach donated his pay to the Marshall University Foundation to help a college student afford their tuition. Senator Walters and Delegates Byrd, Reynolds and Walters contributed their money back to the State Treasury.
"A number of people in my district have serious concerns about their health care coverage through PEIA, especially with ongoing uncertainty about the budget," Senator Walters said. "I think donating the salary I would accrue during this special session back to the state is the right thing to do, and is just one way I can help fulfill the promises that we've made to our public employees."
"Simply put, it's the right thing to do," Delegate Byrd said. "I can't imagine taking money from the State of West Virginia while we are asking state agencies and various organizations to take major cuts that affect all citizens of West Virginia."
"Additionally, with the July 1st deadline fast approaching, it is truly hard for me to visualize the uncertainty that is looming over our hardworking public employees," Byrd continued. "So today, I am giving my pay back and encourage all my colleagues who can to do the same."
Delegate Reynolds has heard from many constituents who are frustrated with the Legislature and the lack of a budget. "This is one small step to show West Virginians that we are taking this budget crisis seriously and that legislators on both sides of the aisle are committed to working in a bipartisan way to find a responsible solution to move our state forward."
"I hope that this leads to a spirit of bipartisan cooperation to get this budget done," Delegate Rohrbach stated. "People are frustrated in the state, and, as a legislator, I am frustrated with the lack of cooperation," he continued. "Both parties need to work together to get a budget done for the security of the people of West Virginia."
Delegate Walters echoed that sentiment. "I am looking forward to working with the Democrats and Republicans to get this budget done, continue state operations and put everyone in the state at ease," he stated.