Member's Press Release
Release Date: 06/04/2015
Contact: Delegate Barbara Evans Fleischauer 304-599-7883 or 304-296-7035
---
Barbara Fleischauer
Delegate Fleischauer Hails New Law Empowering Caregivers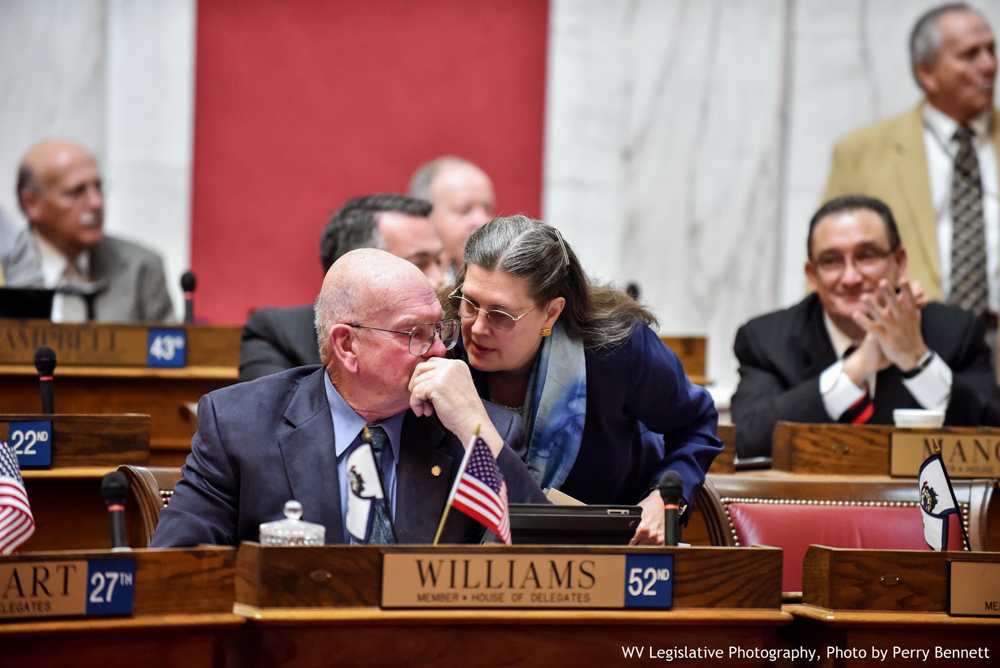 Pictured: Delegate Barbara Evans Fleischauer speaking with Delegate Larry Williams about the CARE bill during the 2015 session. Delegate Williams was the lead sponsor of HB 2100. He recently resigned from the Legislature to accept a position in the W.Va. Dept. of Agriculture.
MORGANTOWN – A new state law that empowers hospital patients to name their caregivers and ensure caregivers receive the information they need to care for their loved ones after they return home goes into effect on Monday June 8, 2015. Enacted during the 2015 West Virginia Legislature, the Caregiver Advise, Record, Enable (CARE) Act ensures that patients can appoint a person they trust to be informed about the care they need upon discharge from a hospital, nursing home or other health care facility.
"I was honored to be one of the sponsors of HB 2100," said Delegate Barbara Evans Fleischauer, D- Monongalia. "Having been a caregiver of three older relatives," she explained, "I know how hard that work is and want to do everything I possibly can to support the important work caregivers do."
The new law will require health care facilities to record the names of family caregivers on the medical record of a loved one when the patient is admitted. "Many families" Fleischauer explained, "do not have a relative living nearby so it may be the neighbor or a close friend who actually does much of the day to day checking on a loved one."
Further, hospitals and nursing homes will be required to inform the family caregiver when their loved one is to be discharged, and give the caregiver education and instruction of the medical tasks, such as when and how to give medication, injections, wound care or other tasks that need to be done at home.
"When anyone is released from a health care facility," added Fleischauer, "it's helpful to have an extra set of eyes and ears. It is hard to remember all of the discharge instructions, especially when you don't feel well, and it is so important for the patient's recovery that the instructions are followed when they are back at home."
Fleischauer credited the American Association for Persons, AARP, with providing much of the muscle behind passing the bill. She said AARP has advocated its passage nation-wide, and that West Virginia was the fourth state to pass it.
Gaylene Miller, the AARP West Virginia state director explained why the legislation is so important for the Mountain State. "Today, more than 300,000 family caregivers in West Virginia face challenging health care decisions every day. As the aging population in the Mountain State increases, so does the responsibility placed upon caregivers. Adoption of the CARE Act is an important step to ensure a consistent level of care is maintained for older West Virginians in the transition from health care facility to home," she said.
"Caring for a loved one who is ill is exhausting work," said Fleischauer, " but there is nothing I am more proud of than helping my dad, my aunt and my uncle stay in their own homes during their the last years of their lives," she said.
"Of course it takes the whole family, and sometimes friends and neighbors and hired helpers to do that," she added, "because so many of us work outside the home. We had to form a team to care for my aunt and uncle," Fleischauer explained, "because they had no children of their own. It included cousins living in four different states. It was very complicated getting them both to their different doctor's appointments and they each needed different types of food."
"Fortunately," said Fleischauer "there is a lot of information on-line or in public libraries for those who are looking for resources."
"I would recommend the AARP site on caregiving: www.aarp.org/caregiving," she added. "For example, one article I found to be helpful was on handling unwanted or conflicting advice from people who are not actively involved in the care of a loved one. Fleischauer said she liked the advice in the article, and plans to follow it the next time it happens. "I am going to deputize them," said Fleischauer, laughing, "and give them a list of specific things they can do if they really want to help."