Bill Hamilton (R - Upshur, 11)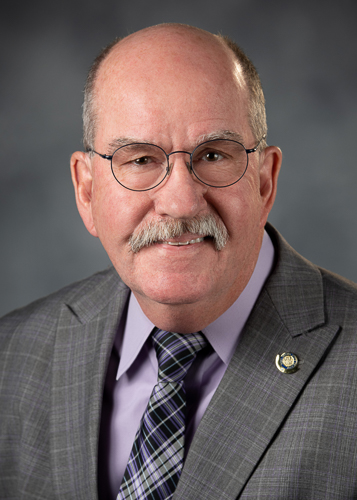 CONTACT
bill.hamilton@wvsenate.gov
Capitol Office:
Room 223W, Building 1
State Capitol Complex
Charleston, WV 25305
Capitol Phone:
(304) 357-7906
District:
P.O. Box 1192
Buckhannon, WV 26201
District Phone:
(304) 472-1966
Bill Hamilton Biography
Education: Buckhannon-Upshur High School; Potomac State College; Ohio State Fire Academy; Investment Institute of Atlanta
Occupation: Retired Independent Insurance Agency Owner
Spouse: Carolyn Sue Winemiller
Children: D. Shawn and Jeremy W. Hamilton; James R. Powell, II and eight grandchildren; 3 great-grandchildren
Parents: the late Winferd W. Hamilton and Mary J. Hamilton
Religion: Catholic
Town of Birth: Buckhannon, WV
Affiliations: Member, Franklin Lodge #7 AF & AM; Tennerton Lions club; Potomac Highlands Shrine Club; Upshur County Shrine Club; Osiris Temple A.A.O.n.M.S. of Wheeling, WV; National Wild Turkey Federation; Lifetime Member, National Rifle Association; Buckhannon Moose Lodge #598; named "2001 Agent of the Year" by Independent Insurance Agents of West Virginia; 2005 Citizen of the Year, Southern-Upshur Business Association; Upshur County Farm Bureau; Mountaineer Chapter-Izack Walton League; Lifetime Member, Upshur County Association of Retired School Employees; Upshur County Hunter Safety Instructor, 33 years.
SPONSORED LEGISLATION, 2023

Senator Hamilton was the Lead Sponsor of 16 bills
Bill
Title
Status
Committee
SB 44
Requiring certain municipalities pay for incarceration of inmates
Pending
SB 49
Establishing criminal offense for being under influence of controlled substance unless specifically prescribed
Pending
Judiciary
SB 50
Requiring one-year residency within district or county to fill vacancy in Legislature
Pending
Judiciary
SB 57
Requiring political action committee to disclose contributors' names and addresses to Secretary of State
Pending
SB 58
Creating mechanism for enforcement of spousal support
Pending
Judiciary
SB 123
Creating enhanced penalties for fleeing officer
Pending
Judiciary
SB 154
Penalizing removal of serial number from firearm or to possess firearm with missing serial number
Pending
Judiciary
SB 198
Requiring counties to register automated external defibrillators with Office of Emergency Medical Services
Pending
Finance
SB 199
Requiring purchases of certain commodities and services from state use program partners
Pending
Government Organization
SB 200
Allowing leashed dogs to track wounded elk, turkey, and wild boar when hunting
Signed
SB 202
Increasing terms of Natural Resources Commission members from four to seven years
Pending
SB 468
Continuing Cabwaylingo State Forest Trail System
Signed
SB 581
Amending provisions of 2023 Farm Bill
Pending
Judiciary
SB 585
Prohibiting county commissions from adopting any authorization that exceeds state law regarding agricultural operations
Pending
Judiciary
SB 629
Establishing auto-renewal program for wildlife licenses
Pending
Finance
SB 738
Equipment Right to Repair Act
Pending
Judiciary