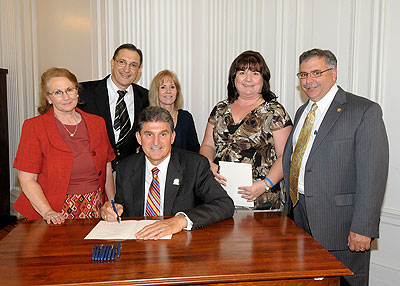 CHARLESTON - Members of the Marion County House delegation were pleased to be able to witness the signing of Erin's Law and to honor the Keener family for initiating the bill's passage.
"I know I speak for all of us, when I say we feel a mix of emotions – a combination of pride in bringing about a needed law change and great sadness for the loss that prompted it," Delegate Mike Caputo said.
Gov. Manchin today signed House Bill 4534, referred to in State Code as "Erin's Law" to acknowledge the efforts of Erin Keener's family in her memory. The bill increases the criminal penalty for failing to stop and render aid after a motor vehicle accident.
"Thanks to the efforts of Erin's mother, Debbie, hit-and-run is finally being treated as the very serious crime it is," Delegate Linda Longstreth said. "Throughout this ordeal, everyone in Marion County hurt along with Erin's family – I'm pleased we can join them in celebrating this accomplishment."
This Act increases the penalty of "hit and run" resulting in death from a determinate sentence of up to three years to an indeterminate term of incarceration of one to five years. It also potentially increases the driving privilege suspension of one year to "one year from the date of conviction or the date of incarceration, whichever is later."
"The efforts of Debbie Keener and her family are shining examples, not only for finding a way to bring about positive change in the face of tragedy, but also for their hard work and civic responsibility," Delegate Tim Manchin said.
For Debbie, today was the culmination of years of effort.
"Today was really special to me," she said. "I felt deep in my heart this was something that needed to be done.
"I would like to extend my appreciation to Mike, Linda and Tim for their help on this."
Both Debbie and Erin's grandmother, Doris, who was also present for the bill signing, added that they hope the increased penalty "will be a deterrent to someone else" fleeing the scene of an accident.