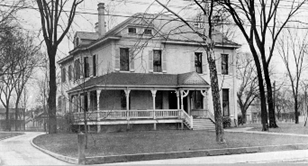 West Virginia's first Executive Mansion. After much thought, study and conversation with Cass Gilbert, Charleston architect Walter F. Martens presented his sketches of a Georgian Colonial dwelling for the proposed new governor's mansion. To Marten's surprise his drawings were chosen and he supervised its construction from 1924 to l9Z5. The West Virginia Executive Mansion is of red Harvard colonial brick laid in Flemish bond with black headers, is fronted by a central, two-story portico with a bracketed pediment that is supported by four free standing and two engaged fluted Corinthian columns. The arched entranceway, painted white to complement the brickwork as is all trim, frames a delicate fanlight above the door.
On either side of the structure and extending about one-third of the depth, are porches surrounded by a low balustrade and rows of columns, which rise to support a flat roof onto which several second floor rooms open. These second floor balconies also have low balustrades with interesting designs in wood. The porch to the east is open, while that toward the west is enclosed. A single story entranceway at the rear balances the central, front portico.
A bracketed cornice circles the house above the second floor, and third floor dormers pleasingly jut from the indented, slate-shingled mansard roof. The third story was not included when the mansion was first built, but original plans called for it and it was added in 1946. Completing the grounds, the enclosed gardens and a garage over which are the servant quarters were added in 1926, and they each complement the mansion while functioning in their own right as distinct elements.
As one enters through the main portico, he is immediately struck by the checkered black Belgian and white Tennessee marble floor which is flanked by well proportioned, dual Georgian staircases, a design inspired by architectural studies of the White House. The main floor also houses the elegantly designed and furnished drawing room, ballroom State dining room, a sitting room and the library. Eight bedrooms and four baths, including the Governor's private quarters and family room, are located on the second floor, and the third floor contains two additional bedrooms.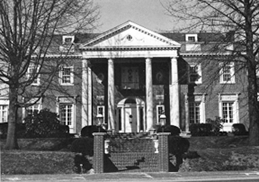 West Virginia Executive Mansion This new governor's home was the second owned by the state; the first had been purchased in 1893 and was located downtown close to the capitol building that burned in l9Zl. Before the administration of Governor MacCorkle from 1893 to 1897, West Virginia governors had to house themselves. Governor Morgan first occupied the new mansion only one week prior to the expiration of his term. It has since housed thirteen governors.
« previous
|
next »